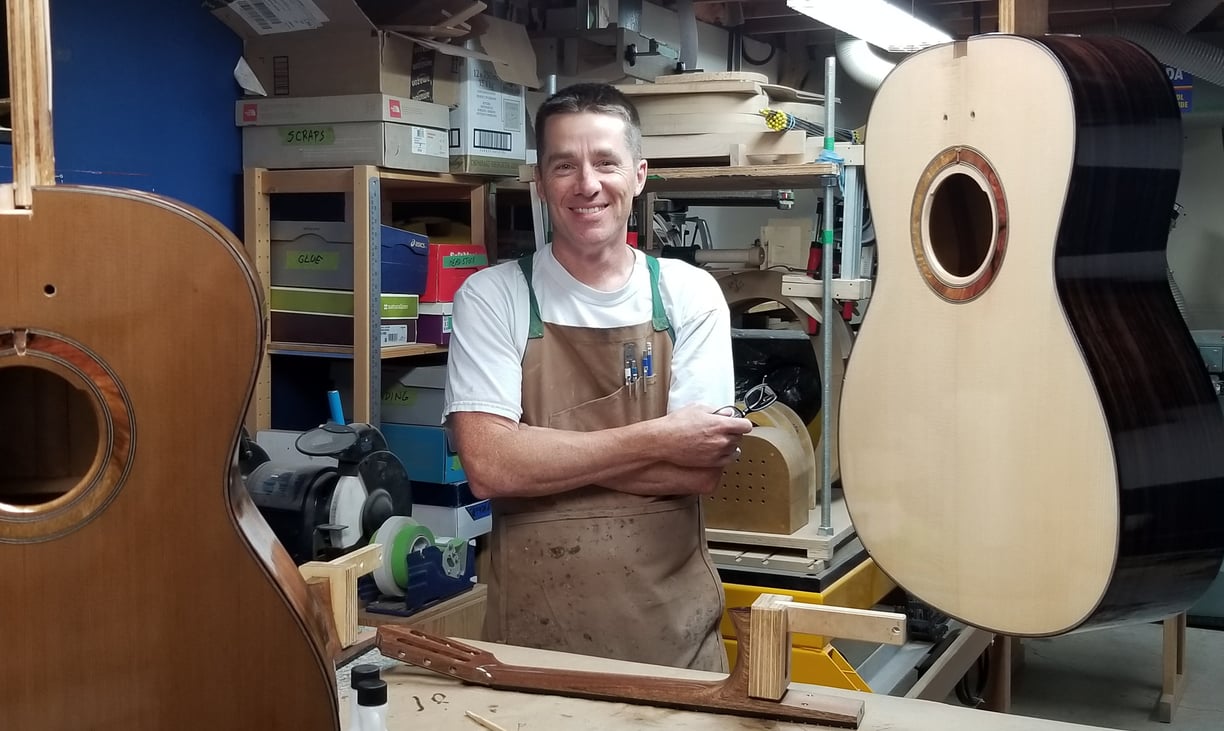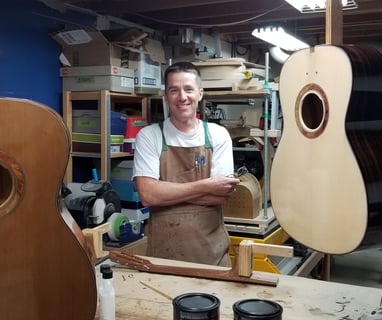 04 September 2020
I started to play classical guitar in 2009, with a mass-produced instrument I bought for $125. The guitar suited my purposes for nearly a year, but I had reached a level where I needed a more responsive guitar, giving me more feedback on what I was doing wrong (or, occasionally, right!).
Before buying a high-end guitar, I wanted to try building one myself to understand what I was buying, and why I would be paying so much money. Working during my free time on the weekends, I spent a cold winter in my unheated garage, using the cheapest materials I could find, building a guitar from a book my parents had bought me many years earlier. The experience was fantastic. The guitar turned out ok, and it even looked and sounded very much like a real guitar. As a result, I understood the patience, skill, and attention to detail required in hand-crafting an instrument. I also found it was one of the most rewarding experiences in my life! I had caught the lutherie bug, which like the common cold has no cure.
In 2012 my wife let me loose for five weeks to take an intensive guitar-building course from Sergei de Jonge just outside Gatineau, Quebec. I was working side-by-side with students, apprentices, and accomplished builders from Canada, the US, and Asia. It was the best thing I could have done in my development.
In early 2013 I realized I had been sitting behind a desk and going to meetings for 22 years, and wanted to try something more rewarding. I left my full-time job to establish a career as a luthier. With all the additional time now at my disposal, I was able to continue learning - reading, building, taking courses, and even squeezing in a guitar festival or six. Something that has really impressed me is the enthusiasm (fanaticism?), support and encouragement given to me by the players, builders, and instructors in the guitar community.
I'm now in my eighth year of full-time building. Combining my engineering background with feedback from the guitar community, my guitars have advanced in leaps and bounds beyond earlier efforts, and I am confident that you will like the sound, power and playability of my instruments. I have sold many guitars to advanced students in the Calgary (Canada) area, and one of the great joys of my profession is seeing and hearing my guitars being played in concerts and workshops.
A few years ago, I was honoured to sell several guitars to Odair Assad - one half of the world-renowned Assad Brothers guitar duo. Mr. Assad lends my guitars to his students, as he believes that a quality, responsive instrument facilitates guitar mastery. Occasionally, his students insist on buying the guitar, and he's returned to buy more guitars, including my very first 3/4 Scale Concert Classical!​
What a great time it's been.
In my previous life, I was a Petroleum Engineer. I have a bachelor's degree in Geophysical Engineering from the University of Saskatchewan and a master's degree in Petroleum Engineering from Imperial College, London (England). Throughout most of my career I did consulting work, which took me to Alaska, Argentina, Venezuela, England, Austria, Norway, Turkey, Russia, Sudan, Kuwait and other places. Much of it was very interesting, and I met some great people. But it was time for a change.
Other stuff
I live in Calgary, Canada about an hour's drive from the Canadian Rockies. I no longer work in my garage, since I've now got a purpose-built workshop in my basement where temperature and humidity are much easier to control.
In our spare time, my wife and I love to travel. I also brew beer, run marathons, scuba dive and dream of having the time to pursue my many other interests.